Pediatric Flat Foot Correction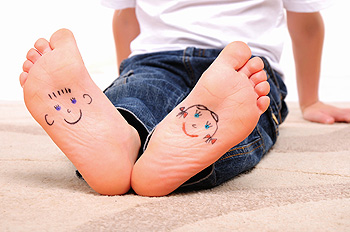 Although there are many forms of flat foot, they all share one common problem; total or partial collapse of the medial arch of the foot.
Flat foot is common in both adults and children; however, the treatment options for adults vs. children can vary greatly.
Pediatric flat foot (or flat foot deformity in children) often times resolves on its own as the child enters adolescence; however in some cases, the deformity requires treatment to aid in pain relief, or to increase function of the child's feet.
Treatment options include orthotics, bracing, joint implants, and surgical reconstruction of the flat foot.
These options are tailored to the specific needs of each child.
For more information on pediatric flat foot deformity, treatment options, clinical evaluation, we suggest you consult with our podiatric specialists.