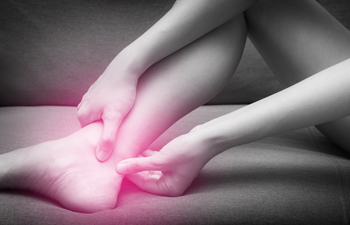 Blood consists mostly of protein-rich plasma, and blood cells and platelets that facilitate healing. Platelet Rich Plasma (PRP) Therapy is a revolutionary treatment that turbocharges a person's plasma and platelets to act as a healing agent in their own body. PRP injections contain a highly concentrated amount of a person's plasma that speeds up their body's ability to heal ligaments, joints, muscles and tendons. This is especially beneficial for older adults who can sometimes take longer to recover from damage or injury. Podiatrists use this therapy to treat conditions such as plantar fasciitis, sprains, arthritis, ankle ligament or tendon injuries, and more. PRP injections remove the need for surgery—which often creates complications for older adults—with no side effects. What's more, since no synthetic material is being introduced into the body, there is no risk of infection or rejection. To see if your foot or ankle condition can be treated with PRP injections, consult with a podiatrist today.
If you are suffering from a foot condition, contact one of our podiatrists of Advanced Foot & Ankle Center. Our doctors will assist you with all of your podiatric concerns.
What Is PRP?
Platelet Rich Plasma, or PRP, is blood taken from a patient and spun in a centrifuge, concentrating the amount of platelets. The plasma is then re-injected into the site of injury or damage, assisting the body in repairing damage to muscles, tendons, ligaments, and tissue. PRP helps the body speed up its healing process.
Uses of PRP
Injuries affecting the foot sometimes don't heal properly because of poor blood circulation. The healing time slows down, and recovery time is affected by poor blood supply. PRP injections will speed up recovery and resolve this issue.
Treatment
PRP is the first regenerative treatment for damaged muscles, tendons, and ligaments. No surgery needed. It is only applied with an insertion of a needle.
Ultrasound – An ultrasound is needed for proper placement of the platelets.
Injection – When the first injection is received, the patient will return to the doctor in about 2 to 3 weeks and monitor the recovery process.
Recovery time – Some people respond to treatments differently. Therefore, depending on your condition, the doctor will make any remaining decisions on how many more injections are needed, or if any additional ones are even required.
Benefits
One may be able to avoid major surgery, and recovery time will be cut down. PRP injections also avoid creating scar tissue and damage to the area. Risks are also very low using PRP as a treatment. There is no risk of rejection, contracting a disease from using another person's blood, or infection.
If you have any questions please feel free to contact our offices located in Texarkana and, Mount Pleasant, TX and Nashville, AR . We offer the newest diagnostic and treatment technologies for all your foot and ankle needs.
Read more about PRP Injections in the Feet